Robin Ventura 2000 Baseball Starting Lineup Figure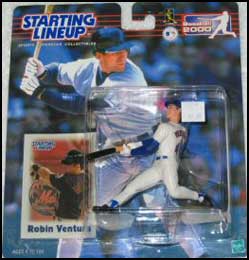 series

2000 Baseball

series type

Regular

player

team
The 2000 Baseball Robin Ventura starting lineup figure was produced in 2000.

This figure showcases Robin Ventura for the New York Mets.
2000 Baseball Starting Lineup Figures
QUALITY 1988-2000 CHICAGO WHITE SOX Starting Lineup Figure OPEN FRANK THOMAS BO
Type:
StoreInventory
Price:
$3.99
Time Left:
9 days left
View Listing
1993/1994/1995/1996/1997/1998/1999/2000 4-Sport Starting Lineup Unopened U-Pick!
Type:
FixedPrice
Price:
$5.99
Time Left:
26 days left
View Listing